<< ARI Watch



Who Is Richard Minns ?
- the Piotrowski Affair -
- the Atlas Award -


Preface · Introduction · Timeline of Events · The Perp · Suzanne Finstad's Book · Janni Comments on the Movie · Court Documents · Newspaper Articles · Unsolved Mysteries Video · The Perp Today · ConclusionThis article is rather long due to extensive quotes of court records and newspaper articles. Though those quotes provide information that fleshes out the bare bones account of the main text, they can be skipped if at first you are not so interested in the subject.



Preface




Ira Einhorn, the narcissistic psychopath who composted his girlfriend when she tried to leave him, managed to avoid prison until he had become an old man. Because of his social prominence and connections he was able to spend the best years of his life free, a case of justice delayed is justice denied.

[1]




Einhorn was never associated with the Ayn Rand Institute nor did he praise Rand as an inspiring influence on his life and compare himself to Howard Roark. All that might go without saying were it not for the existence of Richard Minns, the subject of this article.



We shall reveal the man's character through his past. Mainstream journalists have done most of the work for us and it is easily found online. Yaron Brook and Tal Tsfany (both of the Ayn Rand Institute), Craig Biddle and Carl Barney (The Objective Standard, the Prometheus Foundation, the Objective Standard Institute [2] ) must know – or, in the manner of evaders, do not allow themselves to know – who Richard Minns really is.



Introduction




Each year since 2016 the Ayn Rand Center Israel, in cooperation with several Israeli companies, presents what it calls the Atlas Award to an Israeli start-up that has, in the opinion of the judges, created something of exceptional value. At the ceremony in Tel Aviv the winner is presented with a sculpture of Atlas, the titan deity of ancient Greece. It is a replica of an original sculpture by Richard Minns, who also founded the Atlas Award.




The sculpture is "Atlas Shrugged III – I Own the World !," the third of, at the time, four sculptures which together Minns called the "Atlas Shrugged Quadrilogy." With the hands of a clodhopper, constricted joints, steroid muscles, feet the size of the hips, the proportions everywhere askew – Atlas Shrugged III is no Eugen Sandow. As for the face, oddly enough it is like the face of a younger Minns. [3]



The webpage for the 2019 award ceremony, held on the 28th of May, refers to Minns as "the internationally-renowned sculptor." The gathering included Tal Tsfany, CEO of the Ayn Rand Institute and cofounder of the Ayn Rand Center Israel; Yaron Brook, chairman of ARI's board of directors; and Carl Barney, a large donor to ARCI from its beginning. Besides honoring the award winner, the ceremony that year also honored Barney. Minns himself read a tribute to him that he had written, quoted in full in The Objective Standard, and Barney in turn praised Minns in a public video. [4]



ARI's Impact newsletter of 12 July 2018 reported on that year's Atlas Award, saying that the winning company "is granted a full-size replica of a bronze sculpture of Atlas brandishing the world ... created by internationally renowned sculptor Richard Minns ..." Yaron Brook of the Ayn Rand Institute was among the keynote speakers at the event: [5a]

"It is very exciting for us at the Ayn Rand Institute to be part of this event. I want to just thank the people who really make this event possible and who were the visionaries behind the event. Richard Minns [motions to his right], who not only created the sculpture [resting in front of Brook to his right] but really, this event was his idea, his vision. Carl Barney [motions to his right] who has funded this event from the beginning, and there are a lot of American funders who make this event here in Israel possible and we couldn't do without them. And of course Boaz Arad ... who organized this event ... ."




On 25 May 2017 Yaron Brook gave a speech at an exhibition of Minns' sculptures at Art Market Gallery, Tel Aviv. [5b]



Yaron Brook attended the Atlas Award ceremony for 2017, as did Carl Barney, then still on ARI's board of directors. Barney gave a speech, "Why I Support Israel."



At the Atlas Award ceremony for 2016 Yaron Brook said of Minns, referencing the book Start-up Nation about Israel's economic success, "The sculptor is very committed to connecting the idea of Start-up Nation to Atlas Shrugged and Ayn Rand." [5c]



In 2014, two years before Minns founded the Atlas Award, London's Hay Hill Gallery presented an exhibition of his sculpture along with a talk by Yaron Brook called "Free Market Revolution: An Evening of Individualism." From the gallery's advertisement (click for a full view): [6]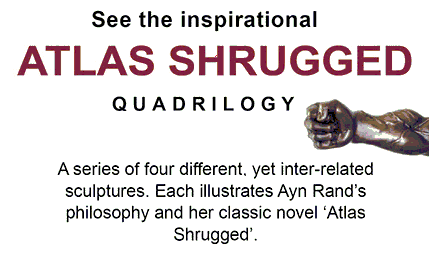 The second sculpture in Minns' Atlas Shrugged Quadrilogy is "Genesis. A New Golden World of Individualism." The neck of this Atlas is out of joint, irritating to look at, and his left arm looks like it either belongs to someone else or Atlas is carrying a loaf of French bread:The first in the Quadrilogy is "Escape to Freedom." Different views of the statuette:In 2020 a fifth sculpture, even more grotesque, was added, making a Quintilogy:Despite Minns' and the gallery's hype these statuettes demonstrate only a spotty knowledge of anatomy. And though art may be the selective recreation of reality Minns' selection makes his work repellent. (Ironically, when Minns was younger and after training with Bob Delmonteque, he himself had a beefcake appearance though his "use" – a bodywork term – was imperfect. You can't judge a book by its cover or a man by his physique.)



The title of someone's copyrighted novel is not subject to the copyright by itself, but someone else using the title for their own product while associating the product with the novel requires permission. "Atlas Shrugged" used in reference to these figurines is either done with the permission of Leonard Peikoff, the copyright holder of Atlas Shrugged, or he just doesn't care.



Timeline of Events




The following are only the high points, there is much more that could be said given more space. In a mass of detail spanning years there are bound to be slightly inconsistent minor details. A dollar in 1980 is worth somewhat over three of today's dollars.


Richard Minns was born in 1929, pursued athletics in school, got a degree in journalism, worked in advertising and public relations, and eventually owns his own agency. When a chain of health clubs goes bankrupt it offers him three of its outlets in lieu of money owed. Bob Delmonteque, born Mike Diaks in 1926, had received a naturopathic doctorate (an undergraduate N.D. not an M.D.) and was an avid bodybuilder. In 1955 with the help of Minns and Ray Wilson, Delmonteque grows the chains of fitness centers and health clubs to eventually over 500 facilities. Minns is primarily involved in marketing. Delmonteque was still in the business until the mid 1980s then he retired.

Long before Delmonteque retires (I'm vague because accounts differ) Minns takes over or creates the luxury chains called Presidents Clubs and First Lady Clubs. At the height of the business he owns 32 of these clubs throughout the U.S. The business is based in Houston and he and his wife Mimi, who is an active partner, become multimillionaires and celebrities in the area.

Barbara Piotrowski (legally Barbra but most accounts use Barbara) is the daughter of working-class Polish immigrants who had settled in Los Angeles. She was a straight A student in Catholic schools and by the age of 17 had won several beauty contests. Then due to a personal tragedy she took several years off from school.

Barbara always wanted to be a medical doctor. She enrolls as a pre-med-student at UCLA. In January 1977 while visiting the Aspen, Colorado ski resort she meets Minns. She is 23 years old and he 47. Before their visit to Aspen is over Minns obtains her telephone number. He neglects to tell her he is married.

A few weeks later Minns phones Barbara in Los Angeles and asks her to join him in Aspen that March. At first she refuses but eventually gives in. The rest is left to your imagination.

Minns persuades Barbara to move to Houston, where his health spa business is based, and live with him. He tells her she can pursue her medical studies just as well there as in L.A. Barbara moves to Houston apartment Minns has set up, and transfers to the University of Houston. Neither Minns' wife Mimi nor Barbara know of the other's existence.

At some point Minns tells Barbara that he is divorced. Then he begins to dance around the truth: he tells her he isn't really divorced but is legally separated. Barbara is unhappy with that but after a short breakup he convinces her to come back. To show his devotion he rents or buys (it isn't clear which) a townhouse in up-scale Ethan's Glen for the two of them and tells her it is hers, including the furniture. She becomes pregnant.

That summer, 1979, Minns wife Mimi learns of the affair and files for divorce. Minns is forced to pay Mimi over $5 million for her share of the health spa business.

Now that Minns is free Barbara expects him to marry her. Minns says he will but keeps putting it off. At some point they go through a marriage ceremony in Mexico and he promises to marry her again in the U.S. at a later date. The couple begin to have heated arguments. At times Minns becomes violent. Once one of his blows fractures her nose.

By March 1980 she can endure no more and moves out, taking most of the furniture with her, mainly in order to emphasize that this time she is leaving for good. She is 25 or 26 years old.

Minns falsely swears out a complaint against Barbara for theft and gets a warrant to seize the furniture. He and two Houston police officers come to Barbara's new apartment and take away the furniture.

Days later Minns gets a warrant for Barbara's arrest. The police arrest her that evening. In jail a police detective visits her cell bearing a document from Minns. He says that, according to Minns, if she will sign this statement attesting that she never knew Minns, never had a relation with him, was not pregnant by him, Minns would drop all charges and also give her money. She refuses. She is charged with felony grand theft. A day and a half later she miscarries. After she is released from jail she hires an attorney.

Barbara continues her studies at the University of Houston and continues to teach aerobics classes. At some point she becomes or had become a registered nurse. She works as a critical-care nurse at a Houston hospital.

Barbara suspects that she is being followed and watched. One day in August 1980 her car stalls unexpectedly in town; suspicious, she calls the police. Installed under the hood they discover a remotely controlled ignition cutoff switch. Fortunately the device had failed to function properly. (She did not know it at the time but it was intended to be used to stop her car on a lonely road where she would then be killed.)

On the 20th of October 1980, about seven months after her break with Minns, Barbara visits a doughnut shop, leaving her car parked outside. She makes her purchase, walks back to her car and sits down in the driver's seat. As she looks up she sees a black man walking toward her side of the car pointing a paper bag at her. The man pulls the trigger of a .44 caliber revolver inside the bag but the hammer catches on a pillow intended to muffle the sound of the shot and the gun does not fire. He removes the gun from the bag as Barbara desperately puts her car in reverse, slams the accelerator to the floor and ducks down, her face to the passenger seat. The car travels a few feet and stalls. The man follows and fires four times point-blank. All four slugs tear into Barbara's back. She goes numb from the chest down and cannot get up.

By sheer chance a patrol car is driving by as this happens, one of the two police officers inside witnesses the shooting, both hear the shots. They see the gunman jump into a Cadillac driven by a second black man. The officers give chase and at the same time radio for an ambulance. After a short chase the Cadillac crashes into a pole and the two men run away on foot. The officers find Patrick Steen and Nathaniel Ivery hiding in a nearby field.

Meanwhile the ambulance arrives at the parking lot and takes Barbara to the hospital where she undergoes emergency surgery. She has a collapsed lung and one or two of the bullets have severed her spinal cord. After the operation she awakens from anesthesia and discovers she still has no feeling or ability to move from the chest down.

At the police station Steen and Ivery play dumb. After detectives trace the getaway car to Robert Anderson, the thugs say he hired them to kill the woman. They were to receive $4,000 each; Anderson was to keep $2,000 for himself but they don't know who is paying him.

Anderson is brought in for questioning and Steen and Ivery identify him. Anderson tells the police that Dudley Bell, a private detective, hired him to arrange the killing. When Bell is questioned he says Richard Minns hired him to follow and investigate Barbara, nothing more.

The next day Bell's ex-wife gives the police a handwritten note of his that suggests Minns is connected with both Bell and Anderson.

Inexplicably, throughout the entire investigation, Minns is never questioned. The police leave him completely alone. [7]

Minns continues to press the furniture theft case against Barbara. Though only a month out of the hospital she appears in court, in a wheelchair. Minns claims she staged the shooting as a publicity stunt ! I believe the word is "chutzpah" only it isn't funny.

In the event she doesn't get an opportunity to prove her innocence. The judge dismisses the charges on a technicality involving the search warrant.

Steen and Ivery are charged with attempted murder. Five months later each is convicted and receives a sentence of 35 years in prison.

In 1987 Anderson is finally convicted of solicitation of capital murder and sentenced to 38 years in prison. Dudley Bell, despite the innocent act, is convicted of the same charge and also sentenced to 38 years. However he is released on parole after only 4 ½ years.

It turns out that long before the shooting took place the Houston Police Department had word from an informer, Minns' own bodyguard, that Barbara was to be killed. She sues the police department for $50 million for failing to act on the information. She wins the case but loses on appeal.

After a year of the District Attorney's failure to pursue charges against Minns, Barbara turns to the civil court and brings a suit against Minns for wrongful injury. Before depositions can be taken Minns flees the country.

On 17 consecutive occasions he ignores a subpoena to appear in court and is represented by high priced lawyers. They plead that he is too ill to come, even though witnesses report him water skiing.

The court awards Barbara $50 million but she cannot collect because Minns has divested himself of all his U.S. assets and lives abroad. His lawyers appeal, principally on the phony grounds that Minns is too sick to travel to the U.S. and appear in court, and eventually the judgement is dismissed.

In short, she never gets a dime.

Fearful of Minns, and perhaps to signify a separation from the past, Barbara changes her name to Jannike (Janni) Smith and moves to Irvine, California. (I may at times continue to call her Barbara to avoid confusion.) She transforms herself into an outstanding wheelchair athlete, winning marathons throughout the country.

In 1982, Janni volunteers to participate in scientific research conducted by Dr. Jerrold Petrofsky, who is experimenting with electrodes attached to the legs and controlled by a portable computer and various algorithms. She soon ceases to be a passive patient and actively helps in the development of the device. Amazingly, in 1983 Barbara walks using a walker and Petrofsky's electrode / computer system. [8] In 1985, Janni completes the Honolulu walkathon, a distance of 6.8 miles. She has received several honors for her work with the physically handicapped. Janni and Dr. Petrofsky are married on Nov. 30, 1991. She goes by the name Petrovska and court documents use Piotrowski.



The Perp




The State's evidence shows that, in July, 1980, appellant [Dudley Bell] asked at least two people to kill complainant [Barbara Piotrowski] at the behest of [Richard] Minns.


— Judges William Junell, Ross Sears, and Bill Cannon
Court of Appeals of Texas, 14th District


Piotrowski was shot and rendered a paraplegic by a hit man procured by her ex-boyfriend, Richard Minns.


— Judges Edith Jones, Rhesa Barksdale, and James Dennis
United States Court of Appeals




The shooting was the opposite of a crime of passion. Minns paid Bell for the "contract," then Bell planned the murder in advance while Minns waited for it to occur. Minns could have stopped the process at any time. This was a cold-blooded killing. It did not go as planned and turned into cold-blooded mayhem.



Dudley Bell did not finger Minns and tell the police he had hired the hit because to do so would have been to confess that he himself was a link in the chain

Minns → Bell → Anderson → Steen / Ivery → Barbara

and destroy his pretense at innocence. Besides, Minns could give him more money in return for his silence. As it happened he was released on parole after serving only 4 ½ years. He died in 2007.



Minns worked through several layers of hit men. He hired Bell who then hired Anderson to pay Steen and Avery to do the shooting. Though Ivery was the "proximate cause" and physically pulled the trigger, Minns was the "ultimate cause" and put the process in motion. He was the prime mover, the man who pulled the trigger of the whole process. He might as well have been the man who pulled the physical trigger.



Usually in a murder for hire, as you go from the prime mover down to the trigger-man the punishment goes from higher to lower. In this Houston case it was the reverse. Minns served no time at all, wasn't even questioned. Bell, as we said, served only 4 ½ years. I don't know if his assistant Adrian Franks, who was behind the kill switch business,

Minns → Bell → Franks → Barbara

served time. I don't know how long Anderson and the thugs served but probably longer than Bell.



Eventually Minns ended his expatriate wanderings by renouncing U.S. citizenship and "making aliyah" – emigrating to Israel. At the time Israel had no extradition treaty with the United States, which was added insurance for his safety from prosecution. [9]



The police are very rarely right there when you need them. As the saying goes, "When seconds count the police are only minutes away." Or, "Call 911 and die." If that patrol car had not been driving by at the very moment of the hit, no one could have convincingly pieced together the causal chain from the bullets back to the prime mover, the sack of bad news calling itself Richard Minns. No one would ever know, just another random black attack. He would have gotten away with crippling someone for life. [10]



As it is he got away with it as much as matters. Justice delayed is justice denied. Now (in 2020) 95 years old, he has lived most of his life when he ought to have been rotting in prison. He is safe as an Israeli citizen among people who must know what he did but do not care. However we know and we care.



Eventually he took up sculpting. I suppose thugs get an advance on their work, the rest on completion. The hands that once handed a large packet of cash to Dudley Bell, who in turn handed some of it to Robert Anderson, who handed a portion to a couple of black thugs, one of whom then pumped four bullets into Barbara's back and left her for dead, molded and shaped that goddamned "Atlas Shrugged III – I Own the World !" statuette.



Suzanne Finstad's Book




In the mid 1980's Suzanne Finstad, a former Houston trial lawyer turned writer, began working on a book about Barbara's case. In 1987 Finstad asked Barbara to cooperate. At first she refused but Finstad persisted. Finstad spent 3½ years interviewing people in Houston and perusing court documents. "Every time I got some new information, I would call Janni [that is, Barbara]. After months of this, she became curious and wanted to help."

[11]




Barbara says that Finstad "provided me with a lot of information that helped me in my civil suit." And because of Finstad's efforts the Houston police department was forced to at least go through the motions of keeping the case active.



When Finstad interviewed Adrian Franks, Dudley Bell's assistant and the man who had surreptitiously installed the ignition cutoff switch on Barbara's car, he told her he would testify in court that Bell had worked on the hit for Minns. He said he made the same offer to the police in 1982 but they never followed up on it. He died in 2018.



The District Attorney's office says that even with that testimony they still would lack enough evidence to indict Minns. This is not true, people are indicted on far less evidence than exists against Minns. However even with an indictment Minns was safe in Israel.



Finstad's book was published by William Morrow and Company in 1991 under the silly if marketable title "Sleeping With the Devil." [12]



Janni Comments on the Movie




In 1997 a movie was made with the same title as Finstad's book but little of the substance.

[13]

Here is what Barbara (Janni) had to say about it at the time (two typos silently corrected):

[14]

Janni Smith Story airs on CBS television

Editor's note: The following letter was written by Janni Smith Petrofsky, RN, to Carol Hudson in the School of Allied Health Professions. Ms. Smith's husband Jerrold S. Petrofsky, PhD, is professor of physical therapy in the School of Allied Health Professions. The following is used with permission.
Dear Carol:

As promised, I am sending some of my "thoughts" about the television movie to be aired on CBS this month [the film was aired on Tuesday, April 22]. These are informal musing I scratched down quickly in no particular order.

This move is not my life story. I served as a member of the production team and as a technical advisor. I also had an infinitely tiny acting part, which was great fun. A few events form my life became a springboard for the script.

There are many things in the movie that are contrary to who I am, what I stand for and what I believe. I asked the producer not to use my name and he was kind enough to comply.

The character does not reflect my attitude, feelings, or beliefs. The movie does not include any of my hard-won accomplishments or the work I've been involved in all these long years. It also does not include Dr. Petrofsky's Nobel prize nomination.

This move is going to help me fulfill a lifelong dream – to go to medical school

I've had numerous movie and book offers over the years and although many of them were generous, I've always declined. But in this case the timing seem providential. I want to attend medical school (hopefully Loma Linda) and this movie has provided me with the tuition to do so.

I was shot four times at point blank range and as a result I am paralyzed form the chest down. When those four bullets struck my body, I prayed that my life would be spared. And I promised that if it was, I would make my life as rich and productive and fulfilling as possible. I have always been grateful that my prayer was answered. The character in the movie becomes bitter and angry when she learns of her paralysis, because this is a more "normal" response. Still, I think it's a shame that it was done that way, because it doesn't acknowledge the power of prayer and the gratitude we owe for our good fortune.

At one point in my life walking was my dream and I pursued it vigorously. It was exhilarating beyond words when that dream came true. But I hope this movie does not send a message that walking is the end-all for people with paralysis. Really, it's something most two-year-olds can do and it shouldn't define you as a human being. I do hope, instead, that the movie inspires people to go after their dreams, whatever those dreams might be.

All of the actors, members of the production team, crew, and extras were a great pleasure to work with. Shannon Doherty was an angel who put in endless hours training for this role. I think she gave what reads in the script as a weak, self-possessed, whiny character an extraordinary strength.

Sincerely,
Janni Smith





Court Documents




Many facts we haven't covered can be found in court documents. As to be expected in such a mass of detail there are minor inconsistencies.




Below are parts of "Dudley Clifford BELL, Jr., Appellant, v. The STATE of Texas, Appellee" before judges Junell, Sears, and Cannon of the Court of Appeals of Texas (14th District), 16 February 1989. [15] Dudley Bell had appealed his conviction and this is the judgement. I have included only the descriptive parts and left out the legal analysis.



Note especially the sentence: "The State's evidence shows that, in July, 1980, appellant [Bell] asked at least two people to kill complainant [Barbara] at the behest of Minns." Even the court believed Richard Minns was the prime mover behind the hit.



Everywhere "appellant" refers to Bell and "complainant" refers to Barbara. For clarity that is noted in brackets where the words appear. "Ivery" is consistently misspelled "Ivory" and likewise "Steen" is misspelled "Stein."


A jury convicted appellant [Bell] of the solicitation of Adrian Franks to commit capital murder and assessed punishment at thirty-eight years confinement in the Texas Department of Corrections and a $10,000 fine. ...

In late 1976 complainant, Barbara Piotrowski, met Richard Minns, the founder of the President's First Lady chain of health clubs. A romantic relationship developed between complainant [Barbara] and Minns and they lived together for a period of time. The relationship came to an acrimonious end in March, 1980 when complainant [Barbara] moved to an apartment by herself.

Shortly after the relationship ended, Minns, appellant [Bell], and two Houston police officers came to complainant's [Barbara's] apartment and seized property allegedly taken by complainant [Barbara] when she separated from Minns. Theft charges were filed against complainant [Barbara], but later dropped.

Appellant [Bell] was the owner of Dudley Bell International Inc., a private investigating company, and Minns was appellant's [Bell's] client. The State's evidence shows that, in July, 1980, appellant [Bell] asked at least two people to kill complainant [Barbara] at the behest of Minns. One of those individuals was Adrian Franks.

In late September or early October, 1980, appellant's [Bell's] friend, Bob Anderson, solicited Nathaniel Ivory and Patrick Stein to kill complainant [Barbara]. On October 20, 1980, Ivory shot complainant [Barbara] four times leaving her paralyzed from her chest down.
...
Franks testified that he was employed by appellant [Bell] in 1978. He began work as a "gopher" but later became an investigator. In the summer of 1980, appellant [Bell] instructed Franks to begin intense surveillance of complainant [Barbara]. Appellant [Bell] also informed Franks that the client involved in the investigation of complainant [Barbara] was Richard Minns. Franks and Larry Rubenstein, pursuant to appellant's [Bell's] instruction, leased an apartment adjacent to complainant's [Barbara's] apartment. Franks placed a wiretap on complainant's [Barbara's] telephone at the request of appellant [Bell]. Franks taped the complainant's [Barbara's] telephone conversations and forwarded the tapes to appellant [Bell]. Franks removed the wiretap from complainant's [Barbara's] telephone after he overheard her asking Southwestern Bell to check her telephone for wiretaps.

In July, 1980 appellant [Bell] asked Franks if he knew anyone who would "hit," or kill someone. Franks responded, "No, not particularly; but tell me more about it." Appellant [Bell] told Franks that he would pay $10,000 for complainant [Barbara] to be killed. Franks told appellant [Bell] he was not interested. Franks testified that a few weeks later, he encountered some financial difficulty and $10,000 "sounded good" to him. Franks asked appellant [Bell] if the offer to kill complainant [Barbara] was still open and appellant [Bell] replied, "You go ahead and work on it, then." Appellant [Bell] suggested that Franks should follow complainant [Barbara] and examine her habits to determine an appropriate time and place to kill her. Appellant [Bell] gave Franks an advance of $400 on the $10,000 fee.

When he began observing complainant [Barbara], Franks discovered that she was difficult to follow because she drove very fast. He decided he could carry out his plan more effectively if he could stop her car at any given moment. Franks then devised a "kill switch" which, when installed on complainant's [Barbara's] car, would allow him to disable her ignition system by remote control. Appellant [Bell] saw Franks building the device and Franks told appellant [Bell] it was a remote control "kill switch." Franks installed the device on complainant's [Barbara's] car. Franks tried to activate the device once but it failed to stop complainant's [Barbara's] car. He later learned that the device was removed by someone else.

Franks discussed his assignment with his neighbor Choppy Farr (also known as Bobby Day). Choppy suggested a gun would be an easy way to commit the murder. Choppy and Franks asked Sue Ellen Perkins, Choppy's girlfriend, to buy an inexpensive, small caliber gun that could be silenced. Ms. Perkins purchased a .22 caliber revolver from a pawn shop located on Bellaire Boulevard at the Chimney Rock intersection. Franks remembered the name of the shop was the Circle Pawn Shop. Franks and Choppy constructed a silencer for the gun from wire mesh and gauze. Franks and Choppy then went to complainant's [Barbara's] apartment intending to kill her. Choppy knocked on complainant's [Barbara's] door, but she would not open it, so Choppy and Franks left the premises.

After Franks tried to kill complainant [Barbara] for approximately one month, appellant [Bell] told Franks that the offer was no longer open to him. Franks testified that appellant [Bell] implied that Franks was taking too long and appellant [Bell] would have to find someone else to kill complainant [Barbara].

The testimony of Franks was corroborated by several other witnesses. The testimony of James Perry Dillard, Richard Waring, and Nathaniel Ivory corroborates Franks's testimony with regard to appellant's [Bell's]search for someone to murder complainant [Barbara]. James Perry Dillard, an employee of appellant [Bell], testified that appellant [Bell] told Dillard he wanted a "pussy hit," which Dillard took to mean that appellant [Bell] was looking for someone to kill a woman. Appellant [Bell] offered Dillard $10,000 and a lifetime job at a health club in exchange for the murder of complainant [Barbara].

Richard Waring testified that appellant [Bell] asked him to shadow Minns to determine if Minns could be easily protected. After Waring reported that Minns could not be easily protected, appellant [Bell] assigned Waring to watch complainant [Barbara]. Further, Waring testified that appellant [Bell] asked Waring if he was interested in making some money "doing something." John Lyles, a Houston Police officer, testified that he heard Waring state that appellant [Bell] asked Waring to "do something to someone."

Nathaniel Ivory testified that in late September or early October of 1980, appellant's [Bell's]friend, Bob Anderson, met Ivory and Patrick Stein in Riverside, California. Ivory and Stein accompanied Anderson to Houston where Anderson gave Ivory a .44 caliber revolver and asked Ivory if he and Stein would consider kidnapping a young woman. Ivory told Anderson he would have to talk with Stein and decide if they could do it. Ivory and Stein discussed the kidnapping and informed Anderson the next day that they were interested. Anderson told Ivory and Stein that the woman's name was Barbara Piotrowski, that she was causing trouble for a married man and that "Judge Dudley" wanted Piotrowski killed rather than kidnapped. Anderson stated that Dudley would pay $10,000 for the murder. Anderson told the men that they would each receive $4000 and that he would keep $2000. Ivory and Stein did not agree immediately but contacted Anderson the next day and accepted Anderson's offer. Anderson gave the men a description of complainant's [Barbara's] normal routine and told them that she should be killed on or before Monday, October 20, 1980.

After consulting with "Judge Dudley," Anderson took Ivory and Stein to complainant's [Barbara's] apartment and showed them her car. Ivory and Stein set up surveillance on complainant's [Barbara's] apartment. After waiting for twenty-four hours, Ivory and Stein grew tired of waiting for complainant [Barbara] to leave her apartment. Ivory concealed a pistol in an arm sling, walked to complainant's [Barbara's] apartment, and knocked on complainant's [Barbara's] door. Instead of opening the door, complainant [Barbara] asked who was at the door. Making up a name, Ivory asked if Lucy was there. Complainant [Barbara] responded that Lucy lived next door. The two men then left the premises.

On Monday, October 20, 1980, Ivory and Stein again waited in their car outside of complainant's [Barbara's] apartment. Later in the afternoon the two men briefly left complainant's [Barbara's] apartment. As the two men returned to complainant's [Barbara's] apartment, Ivory saw complainant [Barbara] driving away in her car. Ivory and Stein began following complainant [Barbara].

Complainant [Barbara] drove to a Winchell's doughnut shop and parked in front of the shop. Complainant [Barbara] jumped out of the car with the engine running and the keys in the ignition. Stein pulled his vehicle behind the doughnut shop. Ivory exited the car and began walking toward complainant's [Barbara's] car. Ivory carried a .32 caliber pistol in his belt and a .44 caliber revolver in his hand which was concealed inside a paper bag and wrapped with a pillow. The pillow was used to muffle the sound of the weapon's discharge.

After purchasing some doughnuts, complainant [Barbara] walked to her car and sat down in the driver's seat. As she looked up, complainant [Barbara] saw Nathaniel Ivory standing beside her car pointing a paper bag directly at her. Ivory pulled the trigger, however the pillow caught in the hammer and the revolver did not fire. Piotrowski put the vehicle into reverse, pushed the accelerator to the floor and ducked down, putting her face down on the passenger's seat. Before she was able to retreat, her vehicle stalled, giving Ivory time to fire four bullets into her body. One of the bullets severed complainant's [Barbara's] spine.

Houston Police Officers William Hamby and Don Parnell were on routine patrol when they heard the gunfire. After a high speed chase, the officers arrested Ivory and Stein.

Dudley Howden, a Houston Police Department bomb squad officer, corroborated Franks's testimony about the device Franks made to disable complainant's [Barbara's] car. Howden testified that he inspected complainant's [Barbara's] red 1978 Firebird in an auto storage lot. He found a metal box with wires extending to the electric ignition. Howden also testified that State's Exhibit 3-a was similar to the device taken out of the Firebird. State's Exhibit 3-a was identified by Franks as the device he had installed in complainant's [Barbara's] vehicle.

Sue Ellen Perkins corroborated Franks's testimony about the purchase of the gun Franks planned to use to kill complainant [Barbara]. Sue Ellen Perkins, Choppy Farr's girlfriend, testified that she and Choppy bought a gun from the Royal Jewelry Pawn Shop located on Bellaire Boulevard at the Chimney Rock intersection. Although Franks's testimony was imprecise regarding the name of the pawn shop, he also testified that it was located on Bellaire Boulevard at the Chimney Rock intersection. Ms. Perkins further testified that Franks and Choppy spent several days trying to build a silencer for the gun using directions from the Anarchist's Cookbook. Ms. Perkins also testified that Choppy and Franks said they were "going to watch a girl."

Barbara Piotrowski, complainant [Barbara], corroborated several portions of Franks's testimony. She testified that she met Richard Minns in 1976 and developed a romantic relationship with him which ended in March, 1980. She saw appellant [Bell] outside her apartment where he could observe her movements. She saw appellant [Bell] once walking his dog and another time simply walking by her apartment. She also stated that she called the telephone company to ask them to investigate a possible wiretap on her telephone. She testified that one day as she was driving to her attorney's office her car stalled. She walked to her attorney's office and he brought her back to the location where she had left her car, but her car was gone. After several days she found her car at an auto storage lot. She told the attendant at the lot that she would need help starting her car. When he lifted the hood of the car to start it, he noticed the device attached to the ignition switch and called the bomb squad at the Houston Police Department. Complainant [Barbara] testified that an officer from the bomb squad removed the device from her car. Complainant [Barbara] also testified that she was shot four times on October 20, 1980.
...


Bell lost, the earlier judgement of conviction was affirmed.



Below is the introduction and "factual and procedural background" section from "PIOTROWSKI v. City of Houston" before judges Jones, Barksdale, and Dennis of the United States Court of Appeals, decided on 17 January 2001. [16] This is the judgement after the city appealed an earlier verdict in favor of Piotrowski.



Note especially the sentence: "Piotrowski was shot and rendered a paraplegic by a hit man procured by her ex-boyfriend, Richard Minns." Again, even the court believed Richard Minns was the prime mover behind the hit. And the court seems to express surprise at the immunity Minns enjoyed: "Minns was allowed to leave the country without ever being interrogated, subpoenaed, or charged in relation to the shooting of Piotrowski."



"Complainant" refers to Minns. HPD is Houston Police Department. IAD is Internal Affairs Complaint. The footnote numbering begins with 2.


Barbra Piotrowski ("Piotrowski") sued the City of Houston ("City") for constitutional violations arising from its failure to prevent her wealthy former boyfriend from attempting to kill her. Implicated in the boyfriend's plot was an unsavory private investigator who had cultivated police and political friendships and regularly hired off-duty officers to work for him and the boyfriend. In exchange for the detective's favors, officials in the Houston Police Department allegedly covered up his and their coworkers' misdeeds. Piotrowski persuaded a jury that the City is liable for her shooting, and she was awarded a judgment of over $20 million. The City has appealed on numerous grounds. This court finds that despite the misconduct of several City employees, the evidence does not support municipal liability or liability based on a state-created danger theory. Additionally, the statute of limitations ran on Piotrowski's equal protection claim. We reverse and render judgment in favor of the City.

FACTUAL AND PROCEDURAL BACKGROUND

This is a disturbing case – both in terms of what happened to Piotrowski and how members of the Houston Police Department ("HPD") conducted themselves before and after the shooting. Piotrowski was shot and rendered a paraplegic by a hit man procured by her ex-boyfriend, Richard Minns. The evidence connected members of the Houston police and fire departments to Minns and his hired investigator Dudley Bell in acts that harassed and threatened Piotrowski before the shooting.

Piotrowski first met Minns while on a ski trip in Aspen, Colorado during the winter of 1976. She was then a twenty-three year old nursing student from California; Minns was a forty-six year old married Texas multi-millionaire, and was the founder of President and First Lady Health Clubs. Minns was in the process of divorcing his first wife. In the spring of 1977, Minns persuaded Piotrowski to move to Houston, and the two began living together. During this period, Piotrowski worked as a business consultant and model for Minns's health clubs.

During the roughly three years they lived together, their relationship deteriorated. According to Piotrowski, Minns started attending wild parties and taking drugs. He became increasingly violent toward her, physically abusing her on at least two occasions. One of his blows broke her nose and hand. In March 1980, the relationship ended. Piotrowski had become pregnant. Minns, during an argument, began to push her and told her to have an abortion or move out. Piotrowski packed up her belongings and left Minns's Houston apartment.

Minns continued to harass Piotrowski after she left him. The harassment took a variety of forms – threatening Piotrowski and her family, filing frivolous charges against her, vandalizing her property as well as her attorney's office, and even placing a stalling device on her car. But what makes this domestic dispute especially unusual is that Minns used the services of at least two members of the HPD as well as one member of the Houston Fire Department to harass Piotrowski.

Initially, Minns contacted Mickey Brown, a member of the Houston Arson Department who also taught boxing to Minns's children, to concoct an arson charge against Piotrowski. Brown, in turn, contacted Detective "Spider" Fincher of the HPD to discuss possible theft charges against Piotrowski. Fincher worked off duty for Dudley Bell, the central figure in Piotrowski's case. Bell was a private investigator with his own criminal record. [2] Bell arranged the murder contract on Piotrowski.

Fincher telephoned Piotrowski and told her she would be arrested for arson and for felony grand theft (relating to items Piotrowski took with her upon leaving Minns's apartment) unless she signed a document releasing Minns from all common law marriage and paternity claims. Brown threatened her with the arson charge if she did not sign such an agreement. [3]

Piotrowski tried to reach a settlement with Minns. But instead of waiting for her to review a proposed agreement, Minns and Bell, with help from their contacts at the HPD, decided to put more pressure on Piotrowski. Minns invited Piotrowski to meet at his hotel so that the two could work out their differences. Piotrowski agreed. Once at the hotel, though, Minns summoned the police to arrest Piotrowski on the theft charges-based on an arrest warrant that Minns had in his possession. Minns invited the officers at the scene to contact Fincher and HPD Detective Charles Wells, who also worked part-time for Bell, if the officers doubted the warrant's authenticity. Given the unique circumstance that the complainant possessed the warrant, the surprised officers accepted Minns's offer. After receiving assurances of authenticity from either Fincher or Wells, on duty at HPD, the officers arrested Piotrowski.

Piotrowski was interrogated at an HPD station by Fincher and Wells, who produced the settlement agreement and told her that she could avoid theft charges by signing it. She refused. As a result, she was fingerprinted, photographed and forced to spend time in jail before being released.

Shortly after being released, Piotrowski was returning to her apartment from a friend's birthday party. Upon arriving at her residence, she became alarmed that Minns, Bell, Fincher, and Wells (among others) were gathered outside. Piotrowski attempted to call her lawyer from a public phone. Officer Wells prevented her from completing the call and escorted her to her apartment, which he and Fincher and Minns then searched. Minns directed the men to remove various items that he claimed were his. Although Wells and Fincher implied that they had a search warrant, Piotrowski never saw it. Bell remained in the parking lot during the search and allegedly vandalized and slashed the tires on the cars of Piotrowski and her attorney.

Toward the end of April 1980, Piotrowski filed a formal complaint with HPD's Internal Affairs Division ("IAD") about the conduct of Fincher and Wells. [4] In fact, Piotrowski and her family filed several complaints with the HPD about the conduct of Minns, Bell, Fincher, and Wells in the months after she moved out of Minns's apartment. The complaints identified those men as the perpetrators of harassment and intimidation, and Piotrowski stated that Minns had threatened her life on several occasions. The HPD informed Piotrowski that they had investigated the various charges and found no wrongdoing by the police officers. Thus, despite her protests, no action was taken to stop the harassment or to discipline Fincher and Wells.

In May the office of Piotrowski's attorney was burglarized and set on fire. Files pertaining to Piotrowski's case were removed. At about this time, Minns directed Bell to rent an apartment below Piotrowski's in order to keep track of her. From this apartment, Adrian Franks, who worked for Bell, tapped Piotrowski's phone and recorded her calls. [5] As Franks also monitored Piotrowski's comings and goings, he knew what she looked like and what car she drove. While Franks was spying on Piotrowski, Bell offered him $10,000 to kill her. Franks agreed. Bell supplied Franks with a packet of information on Piotrowski which included a police-style mug shot of her that could have been taken when she was interrogated by Fincher and Wells.

Franks installed a kill switch on Piotrowski's car in July. [6] Fortunately, the device did not function properly. Piotrowski's car stalled, but she was not hurt. The police initially thought the device was a bomb. After determining that it was a kill switch, HPD investigators turned the matter over to the burglary and theft division-the division in which Fincher and Wells worked. Although Minns was listed as a suspect on at least one police report, Minns was never questioned about the incident. Piotrowski knew her life was in danger.

Undeterred by Franks's failure, Bell shopped the murder contract to other would-be assassins. Bell spoke to at least three other people about killing Piotrowski: James Perry Dillard, Rick Waring, and Robert Jess Anderson. Anderson ultimately hired Nathaniel Ivery, the gunman, and Patrick Steen, the driver of the getaway car, to kill Piotrowski. On October 20, 1980, Ivery shot Piotrowski four times while she was sitting in her parked car outside a doughnut shop in Houston. The shooting paralyzed Piotrowski from the chest down. Ivery, Steen, Anderson, and Bell were all eventually convicted for their roles in the shooting.

Whether HPD was forewarned of the possible shooting was disputed at trial. Approximately five weeks before the shooting, Waring told his friend John Liles, an officer in the criminal intelligence division of the HPD, that Bell had solicited Waring and others to murder Piotrowski. According to Waring, Liles responded that the matter was now in police hands and that Waring should not warn Piotrowski.

Liles testified that he took the tip seriously and reported it to his supervisor, Lieutenant Reece. According to Liles, Reece prevented Liles from investigating the tip on his own and told Liles to submit a report to Captain Adams, the head of the homicide division. [7] Adams testified that he first became aware of the tip when Liles called him the morning after the shooting. Adams said that he never saw a report from Liles and would have acted on it had he seen it. Detective Kenneth Ray Williamson, who headed HPD's investigation of the shooting, testified that he did not think that Liles ever wrote a report before the shooting given Liles's personal connections with Waring and Bell.

Despite assurances that the HPD was conducting a full investigation, Piotrowski maintains that the HPD was actually closing ranks and protecting Minns, Bell, Fincher, and Wells. Despite the facts that (1) Waring, Anderson, and Dillard all told Williamson that Bell had offered them $10,000 to kill Piotrowski, and (2) Bell's ex-wife turned over a note in Bell's handwriting that listed a dollar amount of $10,000 and Piotrowski's name, address, and type of vehicle, Bell was not charged with solicitation of capital murder until Franks offered to assist the police in 1984. Minns was allowed to leave the country without ever being interrogated, subpoenaed, or charged in relation to the shooting of Piotrowski.

Piotrowski's suit against the City is based largely on a deposition given by Liles in early 1993 for another case. [8] In that deposition, Liles charged that the homicide division "dropped the ball" on his tip by failing to warn Piotrowski. He claimed that Reece prevented him and another officer from warning Piotrowski and that the HPD closed ranks to protect the officers involved in the investigation, especially those who had a close relationship with Bell.

Not until September 1993, after learning about the contents of Liles's deposition, did Piotrowski file her first lawsuit against the City. Piotrowski alleged that the City violated 42 U.S.C. §1983 by depriving her of due process and equal protection rights under the Constitution. In particular, she asserted that the City violated substantive due process by maintaining a custom or policy that affirmatively helped Bell to carry out the attack on her. She also alleged that the City denied her equal protection of the laws by discriminating against women in domestic violence disputes while favoring wealthy men in such suits.

The district court granted the City's motion to dismiss the case with prejudice under Fed.R.Civ.P. 12(b)(6) on the ground that Piotrowski's complaint was time-barred. On appeal, this court held that fact issues existed on the statute of limitations, but it also observed that Piotrowski had failed to "allege that a causal link existed between a City policy or custom and the alleged state-created danger." See Piotrowski v. City of Houston, 51 F.3d 512, 517 (5th Cir.1995) ("Piotrowski I"). While her pleading deficiency warranted dismissal, it was possible that Piotrowski could allege such a causal connection. Hence, this court modified the judgment to preserve Piotrowski's right to file an amended complaint.

Further procedural jockeying in the district court led Piotrowski to file a second lawsuit against the City in August 1995. In January 1998, a jury found for Piotrowski on her state-created danger and equal protection claims. The district court entered a judgment in excess of $26 million, including attorney fees.

The City timely appealed. Among many issues it has raised, we need discuss only the statute of limitations verdict and the questions surrounding municipal liability.


---
FOOTNOTES2 Bell's criminal history included charges and/or convictions for arson, wiretapping, federal perjury, and bribing a police officer to mis-file the criminal records of one of Bell's clients. In 1972, Bell owned a night club with the then-Chief of the Fire Department. When the club burned down, the Fire Chief allegedly had arson charges against Bell dismissed. Bell was also known to have other friends in the HPD as well as in Houston politics.3 Brown allegedly claimed that Piotrowski had tried to blow Minns up by exposing electrical wires in their apartment and (somehow) rigging a toilet such that methane and other gases would build up in the home. When Minns turned on the lights, the gases would ignite, killing Minns.4 During this time, Minns and his associates also harassed Piotrowski's family. Minns and Brown contacted Piotrowski's father, telling him that his daughter might go to prison if he did not convince her to work things out with Minns. A business partner of Minns told Piotrowski's father that she would get $20,000 if the father would convince his daughter to leave Texas. On another occasion, Bell and Wells traveled to California and searched the home of Piotrowski's parents, apparently without a warrant. Posing as IRS agents, they detained Piotrowski's mother and her guests, searched the house for property belonging to Minns, and even took a necklace off of the mother's neck. Piotrowski's parents filed IAD complaints following these events. No action was taken against Wells, and the necklace was never recovered.5 Franks began cooperating with the police in 1984 and his testimony helped to convict Bell of solicitation of capital murder for the attempt on Piotrowski, for which Bell was sentenced to 38 years in prison. Franks also confessed to burglarizing the office of Piotrowski's lawyer but denied starting a fire in that building. Franks was never charged with any offense related to Piotrowski's harassment.6 Besides placing the kill-switch on Piotrowski's car, Franks testified that on another occasion he followed her on his motorcycle with a kitchen knife. After deciding that he would not kill her himself, Franks tried to "subcontract" the job to another man in Piotrowski's apartment complex, known as "Bobby." Bobby disguised himself and went to Piotrowski's apartment with a knife. Fortunately, Piotrowski was not home at the time, and Bobby did not make another attempt on her life.7 Although Liles contends that he did write and file such a report, the only reference to a murder-for-hire tip is an entry in a criminal intelligence division ("CID") log that ascribes a CID case number, refers to Liles's name, and includes the notation "solicitation of capital murder" with the date "9-8 of '80." No officer, including Liles, was able to produce a copy of the report.8 Liles sued Williamson (and others) for libel for statements made in a book written about Piotrowski's case, entitled Sleeping with the Devil. As part of that case, Liles's deposition was taken. Piotrowski claims that Liles's deposition revealed new information to her about the HPD preventing Waring from warning her and the HPD's "code of silence" regarding possible mistakes in the investigation. As discussed below, Piotrowski argues that she could not establish her §1983 claim before receiving this information.


The court had to follow the letter of the law even if per the beadle in Oliver Twist "the law is an ass." Piotrowski lost on the grounds of the statute of limitations and municipal non-liability. She appealed the dismissal but lost.



Newspaper Articles




Some other details we haven't covered can be found in the following newspaper stories. There is some repetition among them, just skim points you have already digested. There are minor errors here and there, for example "paralyzed from the waist down" understates the extent of the paralysis. Her spine was broken between the neck and the waist.




The following is from "Fear Bothers Shooting Victim More Than Her Paraplegia" by Jeffrey Perlman, The Los Angeles Times, 22 May 1987. Some paragraphs have been silently combined. Note that the author writes "Jennifer" rather than "Janni." [17]

"I still go to bed with my heart pounding and wake up with my heart racing," said Jennifer Smith, 32, who became a paraplegic after being shot during the last of four attempts on her life in 1980. "I keep friends around me at all times. Living in fear is immensely more crippling than any kind of physical disability."

Smith is not her real name. She lives in Orange County and conceals her identity because she fears that some [of those] who plotted to kill her have not been caught.
...
On Wednesday, a Texas judge sentenced Robert Jess Anderson, 52, to 38 years in prison and fined him $10,000 for soliciting Smith's murder. In March, former private investigator Dudley Bell was given an identical sentence for his role in soliciting the murder.

Still pending, however, is a $220-million lawsuit against health spa owner Richard Minns, Smith's estranged husband. The Texas lawsuit alleges that Minns and others conspired to murder Smith after she became pregnant and refused to have an abortion.

At the time of the shooting, she was a critical-care nurse at a Houston hospital, taught aerobics and attended the University of Houston.

It was in October, 1980, that she was shot in the back during the final murder attempt. A few days before, during a hospital staff discussion of catastrophic injuries, she told colleagues that she would not want to live if she became a paraplegic. When she arrived at the hospital after the shooting, co-workers who remembered her statement approached her.

"They said, 'Jenny, you're a paraplegic. What do you want us to do?' I told them, 'Please don't let me die. Whatever happens to me, I want to live through this to see if I can face the challenge.' "
...
[Now] She works as a top, unpaid assistant to Dr. Jerrold Petrofsky, the nationally known researcher at UC Irvine who uses computerized equipment to help the disabled walk.

"I still fear for my life," said Smith, who helps run a special rehabilitation program for children as part of Petrofsky's research. "But I feel that I'm the luckiest paraplegic alive. . . . This program is a life commitment for me. This is what I do. I live it and breathe it every day."

Smith lived in Santa Monica and was attending UCLA when she met Minns during a Colorado ski trip in 1976. "He swept me off my feet," Smith said.

The couple were married during a trip to Mexico in 1979. Smith was starting her own aerobics business and was working as a critical-care nurse at Houston's Hermann Hospital. She and Minns had planned to have a separate U.S. wedding on Minns' birthday, but they broke up after Smith became pregnant and refused to have an abortion, she said.

After becoming paralyzed, Smith said, "I became determined to make the most out of my life that I possibly could, both physically and emotionally."

After several failed attempts, Smith recalled, she decided the only way to succeed was to become an athlete. She entered wheelchair road races and became a superstar, winning the Detroit Free Press Marathon three years consecutively, among other victories, and competing successfully in wheelchair tennis and other sports.

Smith said much of her success was due to Petrofsky, whom she met after a long, nationwide search for someone who could help her feel better. "I found a number of people," she said. "Some were quacks, and some were doctors who I'm sure we'll see great things from a few years from now. But then I found Dr. Petrofsky, and I knew I had found the right person."

Smith moved to Dayton, Ohio, where Petrofsky had a rehabilitation research center at Wright State University. His work was featured on the television show "60 Minutes" and depicted in the movie "First Steps."

But Smith said she missed her family, who live in Orange County. When Petrofsky transferred his research to UC Irvine last fall, Smith said, she was more than happy to move too. "I love this area," she said. "My family is here. I'm staying and working in almost the exact spot I was before I moved to Ohio."

Smith is helped financially by her family and disability benefits and receives some medical care in exchange for her volunteer work with Petrofsky.

Reluctantly, Smith had agreed to testify at the Houston trials of the men accused of attempting to kill her, but the prosecution decided that was unnecessary as the cases moved toward convictions.

But even hearing about the cases and reviewing some of the testimony has renewed her fears. "It's something that is very traumatic for me," she said. ...

Of the four attempts on her life, she knows the details of only two: the shooting, and a bizarre scheme that included an electronic device designed to stall her car, so a man on a motorcycle could kill her while she was stranded on a rural road. The device activated, instead, while the car was parked outside her lawyer's office. She had gone there to discuss her efforts to get a divorce and charges, later dismissed, that her husband had filed against her.

Still, Smith said, she has never sought counseling to cope with all that has happened to her. "I felt so lucky to make it through this," she said. "I felt I didn't need any counseling. . . . Five years after my injury, I thought I had dealt with it very well."

But about a year ago, Smith said, she began reliving events in her mind.

She doesn't give out her phone number or her address. Until recently, she had not discussed the Houston murder attempts publicly, instead focusing all publicity on her work with Petrofsky.

The Houston events, she said, are "such an ugly story – who wants to hear about a shooting? The best story is the work we do helping people, especially children, in the research program. That's what I hope people will be interested in."


The following is selected from (tasteless headline) "Near-Fatal Attraction: Athlete Still a Victim of Lover's Obsession That Led to Her Paralysis" by Dennis McLellan, The Los Angeles Times, 26 July 1991. Some paragraphs have been silently combined. [18]

In the decade since gunshots left her paralyzed from the chest down, Janni Smith has gained national recognition.

As a wheelchair athlete, she won more than a dozen marathon races and competed in trials for the 1984 Olympics in Los Angeles. And as president of the Irvine-based Petrofsky Centers for Rehabilitation and Research, she has helped develop medical technologies that enable paralyzed muscles to move for exercise as well as for walking and hand movement.

News accounts typically attribute Smith's paralysis to an accident. Even her background biography only notes she was shot four times while training for the Honolulu Marathon.
...
What really happened to Janni Smith is chronicled in "Sleeping With the Devil" ..., former trial lawyer Suzanne Finstad's true-crime book about the love affair between Texas millionaire Richard Minns and Barbra Piotrowski, the bright and beautiful California premed student and part-time model 24 years his junior.
...
Seven months after Piotrowski walked out on Minns, a paid assassin shot her four times in the back while she was parked in a Houston lot.

Still fearing for her life after the shooting, Piotrowski changed her name to Janni Smith.

Four men, including the private detective hired by Richard Minns to tap Piotrowski's phone and harass her after they broke up, were later imprisoned for conspiracy to commit murder.

Minns, however, was never charged, arrested or even questioned about the murder plot. ... Piotrowski in 1982 filed a civil suit against Minns for causing her injuries.

But by then Minns already had liquidated all his assets and left the country. As Piotrowski has built a new life as Janni Smith, Minns has continued to elude the court system and over the years has, according to Finstad, avoided 19 depositions and numerous hearings. Finstad said Minns has been living in different countries and has returned to the United States only by using false passports.

"He has stated under oath that he is confined to bed and too ill to travel," said Finstad, who interviewed all of the key participants involved in the case – except for ... Minns. Minns, through his ex-wife, refused to speak to her.
...
Janni Smith, who was interviewed by the author, took time off from her work at the Petrofsky Centers to accompany Finstad on a tour to promote the book.

At best, however, Smith is a reluctant participant. "I am not on the tour to discuss the details of the book, nor to discuss details of a relationship that I have no desire to remember or relive," said Smith, who agreed to do the tour in order to talk about her research and to discuss any "important issues" raised by the book.

What she has found, however, is that talk show hosts are more interested in asking her about her relationship with Richard Minns than discussing inequities in the justice system. "They want the dirt," said Smith, who is now 38 and living in Orange County. "It's been very awkward for me."

After 23-year-old Barbra Piotrowski met 47-year-old Richard Minns on a Colorado ski slope in 1977, the charismatic, youthful-looking health club tycoon convinced her to abandon her premed studies at UCLA and move to Houston to be with him.
...
When Minns' wife, Mimi, divorced him, she received more than half of his net worth. But Minns could not stand to lose and gradually focused his anger and paranoia on Piotrowski.

When Minns insisted that she have an abortion, Piotrowski moved out of the townhouse he had bought for her, taking her furniture with her. Minns retaliated by using his influence to have her arrested for grand theft. Then ... he hired a private detective to tap Piotrowski's phone and to trail and harass her and her family.

"I think," Finstad said, "he feared she'd file a palimony action against him and he had just been through this 'War of the Roses' divorce that set him over the edge – and the fact that (Piotrowski) left him. His ego was battered, and this is an egomaniac."

A month before the murder attempt that left Piotrowski paralyzed, Finstad learned while researching her book, Minns' own bodyguard told the Houston police that a contract was out on Piotrowski and that the private investigator hired by Minns was behind it. "And," the bodyguard told police, "everyone knows he's working for Minns." But, said Finstad, the police did nothing.

Finstad was attending law school in Houston when Piotrowski was shot and, "like everybody," she followed newspaper accounts of the case.
...
When Finstad approached Janni Smith four years ago to be interviewed for a book, Smith initially refused. Over the years, Smith has turned down numerous offers to sell the book or movie rights to her story. But after becoming familiar with Finstad and her two previous books, Smith finally agreed to be interviewed. Besides, said Smith, "she was coming to me and giving me more information than the FBI, the Police Department, or my attorneys – more than anyone else was able to obtain."

Smith emphasizes that "Sleeping With the Devil" is not her story but a subjective look at the case. (Smith is not profiting from Finstad's book, but Finstad said she plans to give 15% of her royalties to Smith's research clinics.)

Smith said she hasn't even read the book. "I'm afraid of letting myself get caught up in a very depressing story," she said. "All my family and close friends have read it. They just find it incredibly depressing. It's like reliving it."

Finstad said Smith still fears Minns. "It's only been until recently that she has even been able to discuss in a public way Richard Minns at all. She would stutter and stammer, her hands would shake and she'd lose her train of thought."
...
In 1987, when Minns failed to show up in court for the start of Smith's personal-injury trial, a judge entered a default judgment ordering Minns to pay Smith $28.6 million. Minns, through his attorneys, appealed.

But last February, after a retrial on the damages issue, a jury ordered Minns to pay Smith a total of nearly $60 million. ... Whether Smith will ever collect the award, however, remains to be seen.

At the trial, Minns' attorney son, Mike Minns, told the jury that his father was "destitute" – that he has no money other than a pension check from the Israeli army. He also said that his father is confined to bed.

As a result of the book's publication, however, Finstad says she has learned otherwise. ... a man in the Bahamas who had read an excerpt from the book in Cosmopolitan called to tell her that Minns, who now goes by the name Richard O'Toole, has been living in a $600,000 condo on Paradise Island in the Bahamas for the last 2 ½ years.

"He's posing as an international tax lawyer and he's had Bahamians actually come to him for legal advice," said Finstad. "He's also in impeccable physical condition. He water-skis four hours a day and works out with a personal trainer every day for hours at a time."
...




The following is from "Marathon Wait is Over: Fugitive Millionaire Caught" subheaded "He faces a $60-million judgment won by Irvine woman left paraplegic in a 1980 shooting" by Dennis McLellan and Nancy Wride, The Los Angeles Times, 21 July 1994. [19]

Irvine [CA] rehabilitation specialist Janni Smith always believed that the Texas millionaire she claims arranged to have her shot – leaving her paralyzed from the waist down – would one day be captured. After a 14-year wait, her fugitive ex-lover was behind bars.

Richard Minns, 64, was arrested Tuesday at the Dallas-Fort Worth International Airport on suspicion of obtaining several passports with fraudulent information and names. Minns, who was never charged in Smith's shooting, fled the country in 1981. He now faces a $60-million judgment she later won against him in a personal injury lawsuit.

"It took me completely by surprise," said Smith, 41, a former wheelchair marathoner whose work at the Petrofsky Centers for Rehabilitation and Research has been featured on national television news programs. "I'm one of those people who never really gives up hope."

Back in the '70s, the millionaire and his young girlfriend were a glamorous presence on the Houston social scene.

Minns was a charismatic, youthful-looking health club tycoon when they met on a Colorado ski slope. Smith, whose name at the time was Barbra Piotrowski, was a bright and beautiful California pre-med student and part-time model 24 years his junior.

Seven months after Smith broke up with Minns in 1980, she was shot four times in the back while parked in a Houston lot. Four men, including a private detective hired by Minns to tap her phone and harass her after they broke up, were later imprisoned for conspiracy to commit murder. Fearful for her life after the shooting, she changed her name.

The district attorney's office, which was criticized by members of the legal community and the public for not having indicted Minns, maintained there was insufficient evidence.

Frustrated by the failure of the criminal justice system to charge or even question Minns regarding her attack, Smith in 1982 filed a civil suit against him for causing her injuries. But by then Minns already had liquidated all his assets and left the country.

On Tuesday, he was on a flight from Cancun, Mexico, that stopped off at the Dallas-Ft. Worth airport when he was arrested, according to Eric Nichols, the assistant U.S. Attorney who will prosecute the case. The flight's final destination was Vancouver, Canada, where Minns now lives. During a routine customs check, Minns was stopped and later detained.

Nichols would not comment on whether law enforcement agencies had been pursuing Minns for anything besides the alleged passport violations. But during a Wednesday night phone call to The Times, he quoted the county district attorney saying on television that local prosecutors still believed there was insufficient evidence to pursue Minns for the Smith attack.

Nichols would not comment on how federal authorities discovered the passports, which the indictment alleges were obtained by using false names. He said they will argue in court Friday that Minns should remain in custody during his trial.
...
Minns, who has been living in different countries over the past decade, was using the alias Harlan Allen Richardson at the time of his arrest. His capture is the result of a two-year investigation.

As a wheelchair athlete after the shooting, Smith won more than a dozen marathons. As president of the Petrofsky Centers for Rehabilitation and Research, she has helped develop medical technologies [based on computer controlled electrical stimulation] that enable paralyzed muscles to move for exercise as well as for walking and hand movement.

The shooting and Smith's love affair with Minns was chronicled in the 1991 book, "Sleeping With the Devil," by former trial lawyer Suzanne Finstad.

Finstad, who was attending law school in Houston at the time, remembers a full-length, front-page photo of Smith in her bikini with the headline: "Who Shot the Golden Girl?"

During her research for the book, Finstad had discovered that Minns was living under the name Richard O'Toole in the Bahamas, where he was posing as an international tax lawyer and living in a lavish waterfront estate.

Finstad said a State Department official heard an interview with her on TV's "Hard Copy" in which she expressed her "frustration that the (Houston) DA hadn't pursued a case against Minns."

Steve Sumner, the Dallas lawyer representing Smith's civil suits, said Minns' arrest is a "positive development from Janni's standpoint. Now that he's surfaced, it opens the door for us to be able to take his deposition and find out where his assets are so she can collect on the judgments against him."

Sumner also represents Smith in a civil rights lawsuit, which was filed last year. It claims that the Houston Police Department was aware of a contract to have Smith killed six weeks before the shooting and did not warn her.


The wait was in vain. The following is from an Associated Press dispatch published in The Victoria Advocate, 24 November 1994 under the title "Judge clears way for ex-health club tycoon's deportation." [20]

HOUSTON (AP) – Former health club tycoon Richard Minns, who fled the country after his ex-girlfriend was shot by a hired gunman, boarded a flight for Ireland Wednesday after a federal judge cleared the way for his deportation.

U.S. District Judge Lynn N. Hughes, who sentenced Minns to four months in custody after he pleased guilty to passport fraud, ordered Minns' deportation Tuesday after finding a recent contempt judgement was void.

The founder of the President & First Lad health club chain had served his jail term in the four months since his July arrest at Dallas-Fort Worth International Airport.

After clearing up some procedural questions early Wednesday, Immigration and Naturalization Service agents escorted Minns to Houston's Intercontinental Airport and a flight for Dublin, said Mike Ramsey, Minns' attorney.

"He was very happy," Ramsey said of his 65-year-old client. "He was ready to leave."

After Hughes' ruling, Minns posted $100,000 bond against more than $600,000 in taxes he owes the Internal Revenue Service, Ramsey said.

State District Judge Carolyn Garcia had sentenced Minns to six months in custody for refusing to answer questions during a civil lawsuit deposition last month.

During the deposition, Minns repeatedly pleaded his 5th Amendment rights against self-incrimination.

On Tuesday, Hughes said Garcia's contempt order violated Minns' due process rights. ...

The civil suit was filed by Barbra Piotrowski, 41, Minns' former fiancee. She alleges Minns arranged a 1980 shooting that left her paralyzed. Minns was never charged with that shooting.

Piotrowski alleges Minns has been out of the United States for most of the time since the shooting to avoid criminal prosecution and payment of a $28.1 million default judgement. The judgment remains under appeal.

Piotrowski, who has changed her name to Janni Smith and now runs a California rehabilitation center with her husband, said she was shattered by Minns' release.

"I'm baffled. I don't even know what to say," Smith said in a telephone interview Wednesday. "I don't understand how it could have happened, and I wonder why we have a judiciary."

Smith said she wasn't as concerned about collecting her judgement as seeing Minns remain behind bars.

"This is a man who has hurt a lot of people. I think he should be behind bars where he can't hurt anybody else," she said. "The judgment would be second place."

Minns, who has renounced his U.S. citizenship, was deported to Ireland because he holds an Irish passport.


This from UPI 23 November 1994 covers about the same material, under the title "Minns leaves Texas, hopes for Ireland." Note that Minns pled the fifth 51 times. [21]

HOUSTON, Nov. 23 – Former Texas health spa tycoon Richard Minns was released from custody and flew to Boston Wednesday, where he hoped to make a connection to Ireland, his attorney said. His departure from Texas comes one day after a federal judge authorized his deportation. Minns, 65, was convicted on passport fraud nearly 12 years after he fled the United States amid allegations he had hired gunmen to shoot his ex-girlfriend, although he never was charged in that crime. Minns is the founder and former owner of President and First Lady health spas. U.S. District Judge Lynn N. Highes agreed with Minns' defense attorneys Tuesday and invalidated a state detainer that prosecutors said kept the Immigration and Naturalization Service from deporting Minns. Hughes effectively ordered Minns' deportation after finding a recent contempt of court judgment and order were void. Minns was sentenced to four months in jail on the passport fraud conviction, but he had served that amount of time since his arrest in July. Although Minns never was charged in the attack on Barbra Piotrowski, she won a $32 million civil judgment against him. The former model was paralyzed from the waist down. The judgment is under appeal. Minns had been living outside the United States since about two years after Piotrowski was shot outside a Houston doughnut shop in October 1980. Last month, a Houston district judge cited Minns for contempt for refusing to answer questions from Piotrowski's lawyer in an attempt to depose Minns while he was jailed at Houston.

Minns pleaded the Fifth Amendment 51 times. Defense attorney Mike Ramsey said Minns finished a debriefing session on how he obtained fraudulent passports. Minns has renounced his U.S. citizenship and hopes to be deported to Ireland, where he is a citizen, Ramsey said. Minns' arrest on the passport charge came as he was changing planes at Dallas, en route from Cancun, Mexico to his home in Vancouver, Canada.





Unsolved Mysteries Video




The NBC television show

Unsolved Mysteries

, Season 4 Episode 20, featured a segment on Minns in the category "Wanted" which first aired on 18 March 1992 when he was still missing. It combines narration by the host of the series, Robert Stack, authentic pictures and films from the time involved, authentic current interviews, and dramatizations of past events using actors; it is obvious which is which. Within that episode the segment begins at 2:01 and ends at 28:11. Updates are printed on the screen at the end.

[22]

That 26 minute segment is excepted here: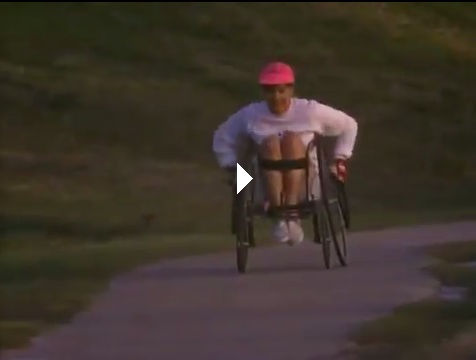 Barbara loved well and not wisely, to her own wrong. Philistines call her stupid for falling in love with Minns. It hasn't been the first time an intelligent person has been fooled by a psychopath. Philistines accuse her of being a gold digger. They accuse her of being a woman. Throw the entire female sex overboard if you will, there is no reason to single out this one unoffending example. It is natural for a woman to want to be taken care of and protected, and likewise her children, current or future. Hence they are attracted to strength, competence (or its simulation), and wealth. If you had a daughter, all things being otherwise equal which would you prefer she marry, a rich man or a poor one ? Think Lorelei Lee's speech at the end of Gentlemen Prefer Blondes. Women and wealth are analogous to men and physical beauty. All things being otherwise equal which would a man prefer, a beauty or a dog?



The interview in the video was made ten years after the attack. This young woman is determined to be happy. Look at the character in her face ! How many women, or men for that matter, would be able to create what Janni Smith created ? She is one in a million.



The Perp Today




The Ayn Rand Institute, self-styled standard-bearer of Ayn Rand's philosophy, has chosen an egomaniac to represent Objectivism.




After fleeing the U.S. in 1982 his money intact, Minns lived in the Bahamas then Switzerland and England for a time. He claims he "retired" in 1997, retired from what isn't clear. That year he enrolled at London's Hampstead Academy and trained in sculpture, then at Avni Art Institute in Israel, then for two years at the Basis School of Sculpture in Israel. He claims he didn't move to Israel until 1999 but that may not be true. After the art training he opened a studio overlooking the Mediterranean in Hadassah Neurim. He also has a condominium in Roehampton House, London.



The Hay Hill Gallery in London mentioned in our introduction has a webpage devoted to "Atlas Shrugged III," the statue given at the Atlas Award ceremony. [23] Under "ARTIST'S INTERPRETATION" Minns writes (we always omit our external quote marks in this "The Perp Today" section):


"Objectivism," the philosophy created by the Russian-American Philosopher / Novelist Ayn Rand, had a profound influence on my early life and the lives of my colleagues.


Under "DESCRIPTION OF SCULPTURE" are some unattributed biographical remarks that Minns doubtless approved and probably wrote:


In order to understand this sculpture, it is best to understand the Artist and his motivation to create the sculpture.

Ayn Rand, the Russian-American Writer / Philosopher who introduced the philosophy of "Objectivism", changed the Western World. She also changed Richard's life.

The change began in 1943 when she published The Fountainhead, which had a profound influence on Richard's life. Richard (then 14 years old) devoured every word and slept with the book beside his bed.

Then, in 1957 when Ayn Rand published ATLAS SHRUGGED, Richard was 26 years old and he had already become an Ayn Rand archetype.

Richard, now 84, has enjoyed a full life, spanning 14 different successful careers, and is now in his final career as a professional sculptor.

Richard, always an exponent of Ayn Rand's Individualism, always obsessed to do things "My Way", has lived all over the world in a larger-than-life continuous adventure, ... always the individual, always driven to achieve by his own standards.

Now, at the height of his creative powers, Richard has summoned his skills to interpret Ayn Rand's philosophy in art form.


Further down the page is more unattributed biography which concludes with:


The primary theme of The Fountainhead was individualism versus collectivism, not in politics but within a man's soul. It mirrored Ayn Rand's beliefs that the individual is of supreme value, the "fountainhead" of creativity, and that selfishness, properly understood as ethical egoism, is a virtue.

This is how Richard has lived his life. Now Richard pours his very soul into the ATLAS SHRUGGED series to express the meaning of his life.

One could say that Richard's Atlas is really Howard Roark and that Howard Roark is actually Richard Minns.

"ATLAS SHRUGGED" is Richard's TRUTH.


Mythomania on steroids. [24] It is impossible to express how sickening all this is. The man who murdered the Barbara who could walk and run dumps this truckload of perversity on the Objectivist movement and makes a mockery of Rand's work.



Barbara → Janni Smith has a new life and does not dwell on the past. It is very unlikely she read the Hay Hill Gallery blurb. But, imagine her reading it.



From the Hay Hill Gallery's webpage devoted to "Atlas Shrugged V" (bolding of capitalized heading removed):

ON RICHARD MINNS' SCULPTURE (AWARD FROM THE AYN RAND INSTITUTE):

"You're the best sculptor we've got. Your figures are not what men are, but what men could be – and should be. You have a magnificent respect for the human being. Your figures are the Heroic in Men." Ayn Rand Institute


In fact this is not from ARI, at least not originally. It is the character Howard Roark speaking to brilliant, young sculptor Steven Mallory in Rand's The Fountainhead. So now, besides Roark, Minns sees himself as that suffering artist-hero. The title of this his fifth "Atlas Shrugged" statuette is "John Galt: 'I've got you, Dagny. You're Safe!' " Peikoff and the rest of the official Objectivists put up with the vomit-inducing nincompoop Minns in silence.



What did the people at the Ayn Rand Institute know and when did they know it?



Before we get to ARI consider the Atlas Society, founded in 1990 under the name "Institute for Objectivist Studies" by David Kelley to rival the Ayn Rand Institute. It has published two articles featuring Minns, both by Jennifer Grossman, TAS's CEO. The first article was "Atlas as Artist: A Visit with Richard Minns" (2016). It featured a photo taken of Minns and Ms. Grossman, both smiling at the camera, Ms. Grossman with one arm behind Minns, her hand on his farther shoulder. That article has disappeared from TAS's website. [25a] The second is "Where Brawn Meets Brain" 17 June 2017 where you read: [25b]


The ranks of flamboyant, indeed controversial bodybuilding Objectivists include the artist Richard Minns and the psychologist Arnold Nerenberg. Both men achieved some notoriety for breaking laws – but also deserve a measure of respect for breaking records.


Later Ms. Grossman refers to Minns as an "Objectivist sculptor."



Minns committed another crime besides attempted homicide and successful mayhem (permanent crippling, mutilation, or disfigurement of any part of the body). After he fled the U.S. to avoid deposition hearings in the Piotrowski Affair he used an illicitly obtained passport under an alias to occasionally visit the U.S. Passport fraud is a crime at the federal level and his Houston connections were no help when he was caught out 12 years later, carrying multiple passports under various names. [25c] However he managed to cut a deal and served only 4 ½ months in prison before being happily deported. Every newspaper article about this travesty of justice mentioned the Piotrowski Affair, indeed the affair was why the passport fraud was newsworthy in the first place. So whether the source of Ms. Grossman's "breaking laws" report was principally about the passport fraud or the murder for hire, she must have learned of the murder for hire. Mayhem and failed murder is "achieving notoriety?"



And if, somehow, she missed it, she knew it soon after she published her article. Two different people brought the Piotrowski Affair to her attention in the comments section that the article had at the time. Yet she is not ashamed of her article; it is still in the Atlas Society archive, though purged of comments as are all the archived articles, nor did she publish a retraction.



Finally, the Piotrowski Affair was the talk of Texas for several years after the hit. Ms. Grossman was living near Houston at the time; she must have heard of it.



The Hay Hill Gallery exhibition of 2014, one of several Minns exhibitions that Yaron Brook spoke at, was reviewed by a British journalist for the newsletter Vice. [26] It is the usual hatchet job on Rand but this stands out:


In a biography passed around on the evening, Minns is described as a former boxer, doctor, journalism professor, athlete and health spa owner. One detail that is notably omitted is that Minns ... fled the US in the 1980s when his ex-lover Barbra Piotrowski was shot by hired men who failed to kill her but inflicted wounds that left her wheelchair-bound for the rest of her life. ... Piotrowski – who has since changed her name to Janni Smith – maintained that the men who were jailed were assassins hired by Minns. ...

When Minns was done talking, Yaron Brook barreled into the center of the room, explaining he'd done 18 events in seven countries in 20 days, but was here to talk to us about "something more positive: What will it take to reverse the course, to promote capitalism?" ...


As doubtless this Briton did, everybody usually does an Internet search on people they work with or write about. If you search "Richard Minns" you find over half a dozen links about the Piotrowski Affair on the first page alone. Some people at ARI must have learned of the Piotrowski Affair, and it is so horrendous they would have told the others about it. They know all right, and have for years.



Conclusion




After the catch and release of Minns in 1994 Barbara said in a telephone interview (see the AP article quoted above):

"I'm baffled. I don't even know what to say. I don't understand how it could have happened, and I wonder why we have a judiciary."

She received no justice from the courts. Only a poor substitute remained, that Minns would be morally condemned by everyone and ostracized from decent society. If morality means anything no decent person would want to be associated with such a disgusting creature.



Because of their emphasis on morality and justice you would expect Objectivists to react the strongest, even the bogus ones at the Ayn Rand Institute and Objective Standard Institute. Hypocrisy has its virtues after all; they would at least want to keep up the appearance of decency. But no, not ARI and OSI. Leonard Peikoff allows a textbook psychopath to sell his ugly statuettes under the name "Atlas Shrugged" while the man goes about saying The Fountainhead had a profound influence on his life and boasting that he is Howard Roark. [26a] Yaron Brook appears with him at exhibitions. ARI promotes his Atlas Award along with his ugly sculpture. OSI and its magazine TOS promotes the award and Carl Barney helps fund it. Barney has two of his ugly statues, Atlas Shrugged III and Prometheus, in his house which he showcases on his website and he uses a photo of the later in his advertisements for his foundation. [26b] Who knows why they promote this creature. Perhaps they like Minns because he is a wealthy and prominent Israeli who can parrot Objectivist bromides. [27] [28]



Ayn Rand intended her work to instill self-righteousness in the good, not the psychopathic. The people at ARI and OSI seem determined to make her look like the monster she is frequently accused of being.



To summarize, there are three parts to this story:

1. The Piotrowski Affair: the murder-for-hire, botched but not for lack of trying; the travesty of justice afterwards.2. The perpetrator, the man who had Barbara shot four times with a .44 and left for dead, recollecting the "profound influence" Ayn Rand's novels had on his life, calling himself an Ayn Rand hero, spouting Objectivist bromides about individual rights, etc. – a psychopath aping John Galt.3. Yaron Brook and others at the mis-named Ayn Rand Institute promoting this lowlife. Ditto for Craig Biddle and The Objective Standard / Objective Standard Institute.



If there is a lesson in all this it is: Don't judge something by its alleged admirers. You don't think 2 + 2 = 4 any the less true because an embezzler says it. On the other hand you don't use the embezzler as a poster boy for the benefits of accounting. [29]



Minns is a windfall to anyone who wants to trash Rand's philosophy. If the people at ARI and OSI were sincere they would be denouncing him at full volume from pillar to post. Instead they promote the miscreant ! ARI and OSI are beyond saving; the Objectivist movement would be far better off without them. They won't go quietly though; their brand of evil is always self-righteous. They never do anything wrong.



---
1 The Ira Einhorn case was dramatized in the movie The Hunt for the Unicorn Killer (1999) starring Naomi Watts and Kevin Anderson. Unlike the movie somewhat based on Barbara's life mentioned later above, the Einhorn movie pretty much hews to what actually happened. Unfortunately that prevents Part 2 from being a work of art.youtube.com/watch?v=zdwjlpPv6Uo

2 See OSI vs. ARI on this website.

3 Atlas Shrugged III depicts a "body gargoyle." Constrast this with Eugen Sandow (1867 - 1925) recorded by Edison's kinetograph in 1894.

4 "A Wonderful Tribute to Carl Barney" by Craig Biddle
The Objective Standard 6 June 2019
theobjectivestandard.com/2019/06/a-wonderful-tribute-to-carl-barney
A wonderful tribute? Make that fulsome praise.

Mr. Biddle's article is illustrated with a photo, Carl Barney left and Richard Minns right, a fitting pair !

The chumminess wasn't just a formality. Sometime in 2018 Carl Barney had created a public video addressing the aging perp directly, titled "Carl Barney - Art Message." He begins "Hi Richard, hi Mary. I do hope you're well. You wanted to see what I've done with your sculptures, and so let me show you around." He goes on to show two of the sculptures in his house, concluding after the second, "We love it, and thank you very much for it, and look forward to seeing you hopefully in England this year. Take care."

Craig Biddle shamelessly begins a 15 July 2019 TOS article in defense of Carl Barney's Scientology career with the sentence: "I recently posted a tribute to Carl Barney by Richard Minns and the Ayn Rand Center Israel, which honored Carl for his enormous, decades-long contributions to the advancement of Objectivism, free minds, free markets, and capitalism."

Barney and Biddle are fond of using such phrases as "soul-fueling," "fueling your soul," "Sharpen your mind. Fuel your soul., "active-minded, life-loving people at the most life-enhancing," etc. etc. to describe their events. They bank on your not knowing who Minns really is.

Photos featuring Yaron Brook and the aging perp, apparently taken at London's Hay Hill Gallery when Mr. Brook gave a talk at the perp's exhibition in 2014, can be found here (provided by @SignOfTheDolla on Twitter):
ARIwatch.com/MinnsAndBrook.jpg

There seems to have been no Atlas Award 2020. Carl Barney spoke at Atlas Award 2021, held on October 13th:
facebook.com/AtlasAward/photos/1519064561761861

5a The first quote is from
"Ayn Rand Center Israel Fights for Capitalism and Freedom; Celebrates Innovators"
Impact ARI 12 July 2018
ari.aynrand.org/ayn-rand-center-israel-fights-for-capitalism-and-freedom-celebrates-innovators
ARI took down that page in 2022 but it can be found at
web.archive.org/web/20210617234906/https://ari.aynrand.org/ayn-rand-center-israel-fights-for-capitalism-and-freedom-celebrates-innovatorsThe second quote is from Mr. Brook's speech (23 May 2018):
youtube.com/watch?v=Mucaxqa72ow
False starts, stuttered words, you knows, uhs, silently removed.

5b "Allison Tour Plan, May 2017"
web.archive.org/web/20170629233821/https://dannythedigger.com/allison

5c "Ayn Rand-inspired start-up award debuts in Israel, but carries controversy"
The Jerusalem Post 19 May 2016
jpost.com/Business-and-Innovation/Transportation-app-Moovit-wins-Ayn-Rand-inspired-start-up-prize-454343
We provide italics for the book titles.

At the beginning of his talk Mr. Brook said "This is incredibly exciting and very exciting for the Ayn Rand Institute to be connected to this award for best start-up in Israel." Towards the end: "This is an award we'd like to do every year. The funding for this event and this award has so far been provided by Americans."
youtube.com/watch?v=s0Lqk70EiOY

6 The statuette at the lower right is "Atlas Shrugged I – Escape to Freedom."
hayhill.com/history/exhibitions/minns_evite14.html

7 The attitude of the Houston Police Department was described some years before in the flippant article "The Best Private Eye in Texas" by Al Reinert Texas Monthly August 1973 (one typo silently corrected):

"Houston's police have demonstrated a remarkable aversion to solving big society killings. Usually if some VIP gets himself knocked off there's a pretty solid chance of there being another VIP at the other end, and things start getting complicated about that point. Like all big-city agencies, Houston's police force is highly politicized, and over-zealous pursuit of the rich and powerful is not considered good form by ambitious patrolmen."


8 Janni Smith walking with a device of Dr. Jerrold Petrofsky's which she helped to perfect.
web.archive.org/web/20090829004431im_/http://www.geocities.com/murder_stories3/smith.gif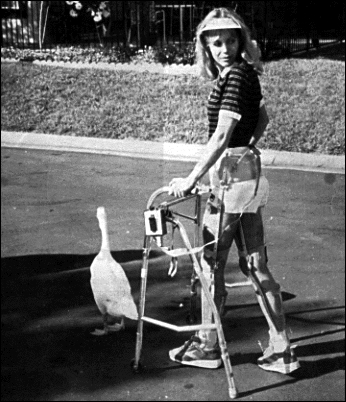 9 From 1978 to 1999 Israel had no extradition treaty with the U.S. Now it nominally does but there are many loopholes.
cbsnews.com/news/how-jewish-american-pedophiles-hide-from-justice-in-israel

10 Probably a very short life because Minns' behavior strongly suggests he would have contracted a second attempt.

11 "Love and Gunfire" by David Grogan
People 9 September 1991
people.com/archive/love-and-gunfire-vol-36-no-9

12 amazon.com/Sleeping-Devil-Suzanne-Finstad/dp/0688083579

13 imdb.com/title/tt0120146

14 tvnight.com/yapp-bin/public/read/news/71

15 leagle.com/decision/19891558768sw2d79011469

16 caselaw.findlaw.com/us-5th-circuit/1120575.html

17 latimes.com/archives/la-xpm-1987-05-22-me-1012-story.html

18 latimes.com/archives/la-xpm-1991-07-26-vw-364-story.html

19 latimes.com/archives/la-xpm-1994-07-21-me-18211-story.html

20 bit.ly/2PmolBn

21 upi.com/Archives/1994/11/23/Minns-leaves-Texas-hopes-for-Ireland/6796785566800

22 youtube.com/watch?v=ynZUwRKyGwI&t=2m1s

23 hayhillgallery.com/minns/atlas3.htm

24 Mythomania – the abnormal propensity to lie and exaggerate, especially about oneself.

Minns sees himself as a hero in everything he does. A braggart as well, occasionally he slips up in his bragging. Besides the exhibition at Hay Hill Gallery in 2014 he had one the year before. In the gallery blurb for the "Meet-The-Artist Event" held 14 November 2013 you read that he once wrestled two giant great white sharks. On the other hand, in the biographical blurb for the 2014 exhibition you read that he killed two giant great white sharks in hand-to-hand combat. Wrestling was implausible, hand-to-hand combat allows lethal weapons. According to "The Mistress and the Muscleman" in the May 1981 issue of Texas Monthly, he claimed to have used a "bank stick," an explosive-tipped lance. However the author, Jim Atkinson, casts doubt on this and other of Minns' alleged exploits.

"But by far the most controversial of Minn's feats [previously described in the article – AW] was his purported slaying of two great white sharks off Antigua in the spring of 1977. To begin with, great white sharks are hard to find in the Caribbean. Second, they are very difficult to kill, even with a bang stick. And third, it is hard to continue to deep dive at all, let alone fight sharks, with injuries such as broken ribs and a ruptured eardrum. ¶ Of the photos that accompanied the event's coverage by the wire services, one looks suspiciously like a picture in a book by Jacques Cousteau. Since the wire services freely admit that they accepted the photos from Minns with no questions asked, there is really no way to verify that they are genuine. Other people who went along on the trip say they never saw any evidence of the kills. Even the manager of the hotel where Minns stayed in Antigua disputes the story."


The body building photo of him, probably advertising his health spas, that you see in the Hay Hill Gallery blurbs is taken from a low angle, making him look tall. In the 2019 Atlas Award group photo of nine men and four women, he is much shorter than every man and no taller than all but one of the women.

25a "Artist as Atlas: A Visit with Richard Minns"
by Jennifer A. Grossman, 2 November 2016
The article begins

"Have you ever met someone and within moments discover so many affinities, coincidences and connections that you feel you've known that individual all you life? Yesterday I arrived at Roehampton House a stranger. Just another admirer among the legions of fans of the great artist and sculptor Richard Minns. But after several hours, dining with him and his wife, working out with him in the private gym the former bodybuilder had himself designed, something happened. Of all the actual precious mementos I'd acquired during the trip, Richard and Mary Minns were the true crown jewels of my visit, a double diadem of rare grace and sparkling wit. ..."

Roehampton House is a historic building in London divided into 24 condominiums. TAS removed the article from its website. The Internet Wayback Machine has only the first 190 words archived.
web.archive.org/web/20161231074437/http://atlassociety.org/commentary/commentary-blog?start=10

25c "United States v. Minns, 863 F. Supp. 360 (N.D. Tex. 1994)"
law.justia.com/cases/federal/district-courts/FSupp/863/360/1459863

25b atlassociety.org/commentary/commentary-blog/6181-where-brawn-meets-brain

26 "An Elegant Evening with Ayn Rand's Free Market Revolutionaries"
by Dawn Foster, Vice 6 November 2014
vice.com/en_uk/article/xd5k5k/dawn-foster-ayn-rand-yaron-brook-388
The Hay Hill Gallery website says Minns had "trained to be a doctor" not that he had been a doctor. (He told Barbara he was "from a family of doctors," which isn't true.) He did start college in pre-med – which makes "trained to be a doctor" an exaggeration – then switched to journalism. The autobiographical remarks he made in a 2008 interview with the Jerusalem Post
"Art Imitating Life"
jpost.com/Features/In-Thespotlight/Art-imitating-life
about getting into the health spa business contradict the account of Bob Delmonteque:
"About Dr. Bob Delmonteque"
sunwarrior.com/blogs/health-hub/bob-delmonteque

Nowhere does the JP article mention an interest in Objectivism or Ayn Rand.

26a We are not the first to point out the psychopathy of Minns or place him in the same category as Ira Einhorn. Both were recognized by Michael H. Stone, Professor of Clinical Psychiatry at the Columbia University College of Physicians and Surgeons in New York City. See the first entry in Chapter 4, "Murder on Purpose: The Psychopathic Schemers," of his book The Anatomy of Evil (2009).
academia.edu/35752677/Anatomy_Evil
He concludes: "Now eighty, Minns will most likely die outside the United States, but also outside prison." Update: Dr. Stone's prediction was half right. Minns did die outside prison but, perhaps for medical treatment, managed to enter the U.S. and cheated the hangman by dying of natural causes in 2022.

Einhorn is the subject of the second entry in the chapter.

26b For example, The Objective Standard of Spring 2020, over a year after this ARI Watch article first appeared, carried a full page advertisement for Barney's Prometheus Foundation illustrated by a photo of Minns's ugly statue.

27 Minns probably obtained some or mosst of his wealth dishonestly. Since he was capable of murder he was capable of any lesser crime. Also, his friendship with Dudley Bell was of longstanding and Bell was a crook.

Minns had a bodyguard. That suggests either he had violent enemies or he projected his own violent nature onto harmless people. If he had violent enemies the natural question is: Why?

And it looks like he dealt in phony passports after he fled the U.S.

28 Here is Minns describing the story behind "Atlas Shrugged I – Escape to Freedom" (one typo silently corrected):

"Atlas has carried the weight of the World on his shoulders, but because of increasing government controls to establish a state of total collectivism, the weight of freeloaders is too much to bear. Accordingly, Atlas breaks out of the suffocating World of Collectivism.

"This is Atlas' initial ESCAPE TO FREEDOM. The Wall Atlas is crashing out of represents the World, complete with Continents. After Atlas is free of the world of Collectivism, he will then create his own perfect world ..., conceived in freedom of individual rights and embodied in laissez-faire capitalism, which is illustrated in the next sculpture."

hayhillgallery.com/minns/atlas1.htm

More breathtaking hypocrisy in the blurb for the "Meet The Artist Evening," unattributed but doubtless approved by Minns and probably written by him:

"The Atlas Shrugged quadrilogy is an iconic sculptural series based on the book of the same name ... . Atlas is seen tearing apart the World of Collectivism that had formerly pinned him down, and creating a new golden world. ... Interpreting Atlas as one who is finally unable to bear the weight of the world and its freeloaders, Minns' sculpture is an important social comment. He challenges us to exert our individual force, shatter the state of total collectivism and live freely. This struggle of individualism versus collectivism is not a political ideal but concerns a man's soul. The idea mirrors Ayn Rand's beliefs that the individual is of supreme value, the "fountainhead" of creativity, and that selfishness, properly understood as ethical egoism, is a virtue."

galleries.co.uk/pr/2014/may-14/hL-HAY-HILL-RichardMinn-2/ShL-HAY-HILL-RichardMinn-2.pdf
Also at
allinlondon.co.uk/whats-on/event-127775-pejman-ebadi-tales-from-the-other-side

A psychopath aping Objectivism who believes his own big lie.

29 After the arrest of Theodore Kaczynski, the serial killer dubbed the Unibomber (three killed, about twenty maimed), found among his belongings was a copy of Victor Hugo's Les Misérables. Kaczynski probably saw himself as Jean Valjean.